Rent the Cub for Your Pregnancy and Birth!
The CUB (Comfortable Upright Birth) is a comfortable, stable inflatable support tool that helps expectant mothers get into a variety of upright positions during pregnancy and labour. It allows mothers to adjust to the positions which are the most comfortable for them at home and in hospital. Being upright during labour has numerous benefits to both mum and baby!
When you rent the CUB kit from Limerick Doula Services, you have full use for five weeks from 37-42 weeks gestation. Depending on location, the CUB will be delivered to you in person or sent via registered post. Your booking will be confirmed once contract and payment have been received.
What Comes with the CUB Kit Rental?
For €60-75 (depending on location), expectant parents in Ireland will receive the following:
- CUB Support + Cloth Cover
- Cloth Cinch Bag
- Inflatable Pump
- Parent Information Booklet
I would love the opportunity to speak with you about any of my services! Please feel free to contact me by phone or email.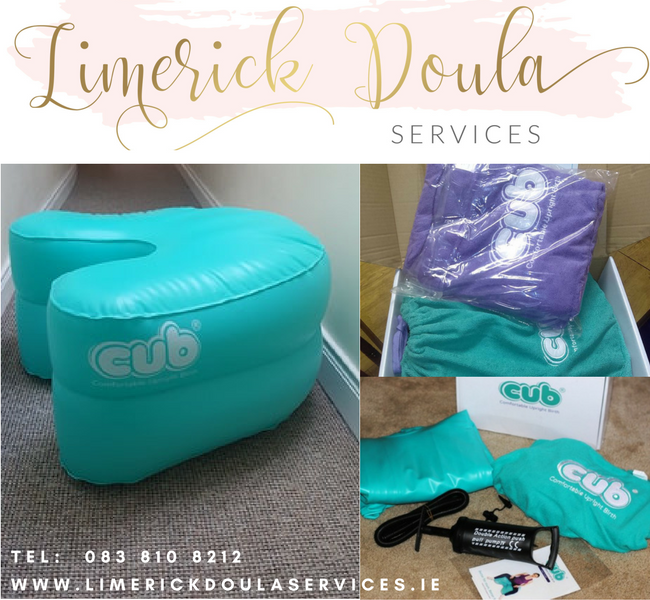 The Benefits of Upright Birth
- Available pelvic space increased by 28-30%
- Contractions become more effective and labour is shorter
- Baby is 54% less likely to become distressed
- Emergency cesareans reduced by 29%
- Episiotomy rates lowered by 21%
- 23% reduction in medical assistance and reduced need for an epidural
To see how the CUB can be used, including the many different labour positions it can assist with, please see this wonderful YouTube video made by CUB (Comfortable Upright Birth)!